A run-down yard in the Dongli District of Tianjin named "Common Home" (共同家园) is home to more than 1500 stray dogs and cats. The individual who took all of them in and cares for them is a 63 year old retired school teacher.  Her name is Xiaoyun Yang (杨晓云).
In 1995, Ms Yang witnessed a kitten being thrown into a river just because the owner was not able to get the kitten sold at a desirable price.  She couldn't watch the kitten drowning, so she went into the river with a rope tied around her.  She saved the kitten and was pulled ashore by her son.  That was Ms Yang's first rescue, and she has not stopped rescuing and sheltering stray animals since. She started with taking the animals into her house, but she very soon ran out of space. She then moved the shelter to a garage in her community.  It, however, didn't take very long for the rescued population to again grow beyond the garage's capacity.  In 1999, Ms Young rented a small bunglow with a courtyard in the Xiqing Da'nanhe area, and "Common Home" was found.
In the following decade, "Common Home" has had to move ten time due to various reasons.  It has also had to relocated to different areas throughout the city.  To fund "Common Home", Ms Yang sold two of her properties in the city.  Her son and only child disagreed with how much she was sacrificing to rescue the animals and moved away.  Some years later, however, he had a change of heart.  Now, he and his wife are both strong supporters of the shelter and help however they can.
After all the struggles and hardship, "Common House" is now home to more than 200 cats and over 1000 dogs. People in the city have slowly found out about "Common House" and what Ms Yang has done for the animals.  Ms Yang has become somewhat well-know for her compassion and amazing work. More and more strays and unwanted pets continually find themselves in "Common Home".  Adoption is highly welcomed in Ms Yang's shelter, but she is always very cautious with would-be adopters. Ms Yang says that there have previously been dog traders who have tried to "adopt" dogs from her.  Fortunately, Ms Yang was always able to see through the fraud.  Those experiences have taught Ms Yang to always exercise extreme caution when it comes to the adoption of those in her care.
Everyday, Ms Yang gets up at 5am and works all day until 10pm.  She eats only one meal in throughout the day.  When caring for such a large number of animals, every single task becomes a long and complicated process.  The animals usually have 2 meals a day, and it takes 8 hours out of each day for Ms Yang to prepare these two meals.  A lot of the animals in  "Common Home" are either disabled or sick, many of which are in need of intensive medical attention.  Ms Yang has never turned her back on any of them. With her very limited resources, Ms Yang tries her best to provide them with the best care and treatment possible. After many years of experience in caring for sick and injured animals,  Ms Yang has learnt many basic veterinary skills and has the know-how to successfully treat minor illnesses.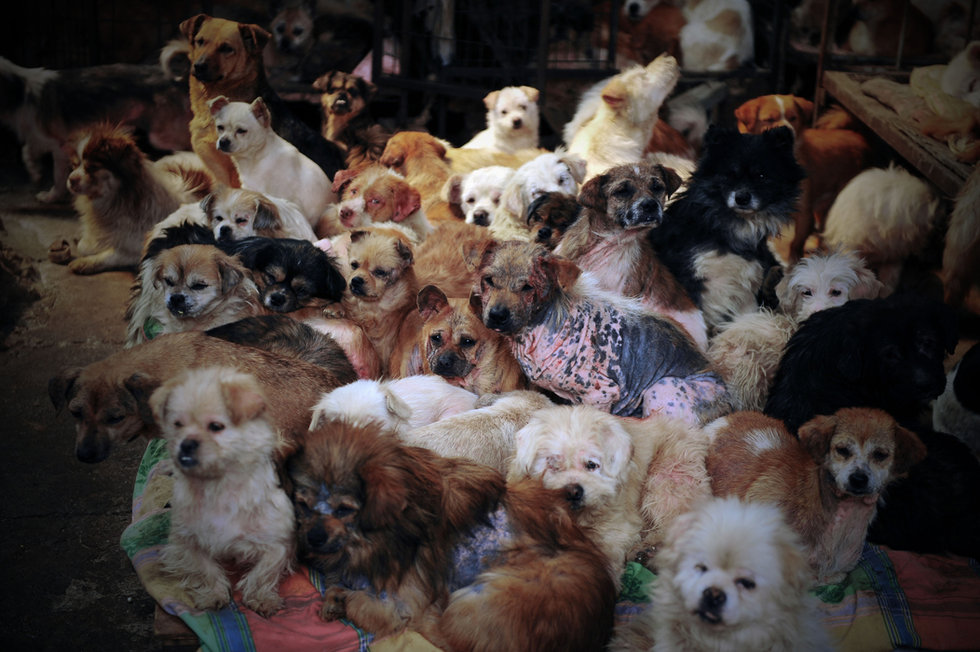 Most of the dogs are sick, many of which require intensive medical attention.
Ms Yang was one of the activists who stopped some of the many "meat dog trucks". She paid dog and cat meat traders to save the animals from been slaughtered for food. She didn't even negotiate with the traders, because she was afraid that the animals would be killed if she didn't agree to their first asking price.  Meanwhile, she continues to bear criticism from people who doubt and question her intentions.  Some have even accused her of "animal cruelty and trade".  It is not easy to rescue stray animals in China, and it sometimes makes her feel very helpless.
Fortunately, there are caring people who are regular volunteers at the "Common Home". Help and donation from volunteers and other loving individuals are the main sources that are keeping the shelter running. However, a shelter with over 1200 dogs and cats runs on a heavy budget.  Common Home's current annual rent is over $4,700 USD.  Food and medical supplies cost more than $6000USD each month.  Aside from a continual shortage of funds to just keep the animals alive, the shelter is also desperately in need of a new location. The current site is under the city's demolition plan, and she must soon find a new place for all of the animals.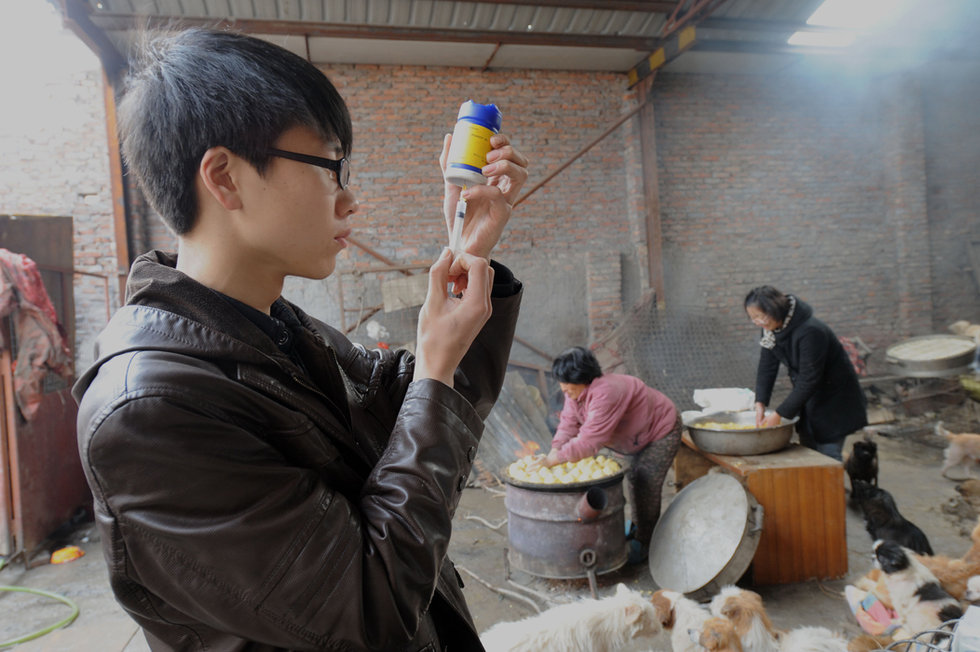 Volunteers provide not only physical help, but also heart-lifting support for Ms Yang.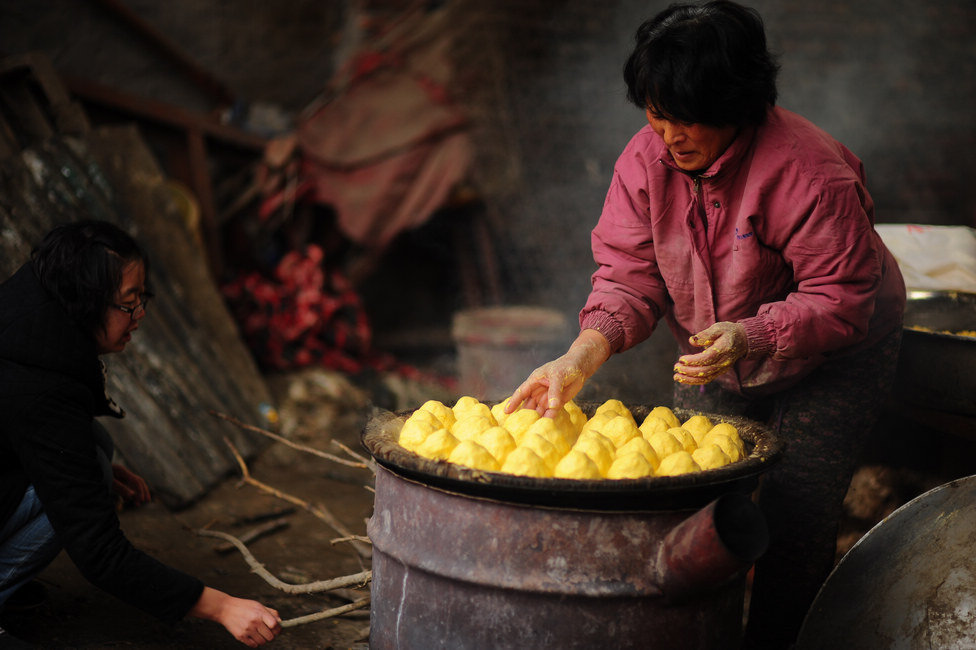 Ms Yang making steamed corn bread for animals.  This is what she can afford to provide for all of the animals in the shelter. She makes two meals a day for the animals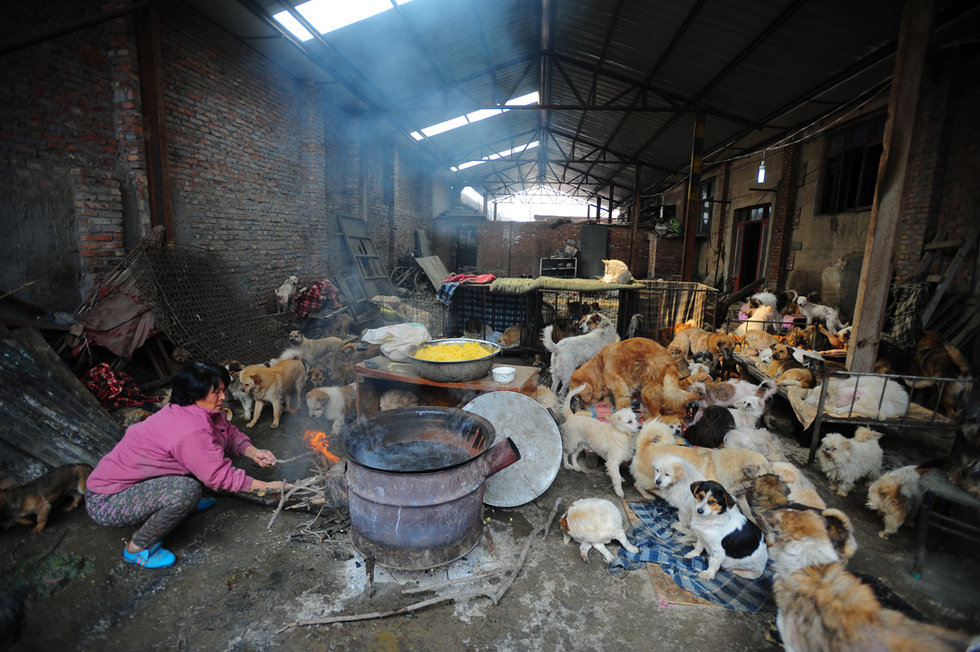 This may not be the nicest and cleanest shelter in the world, but it is a safe oasis in a dangerous world where all of the animals are loved and cared for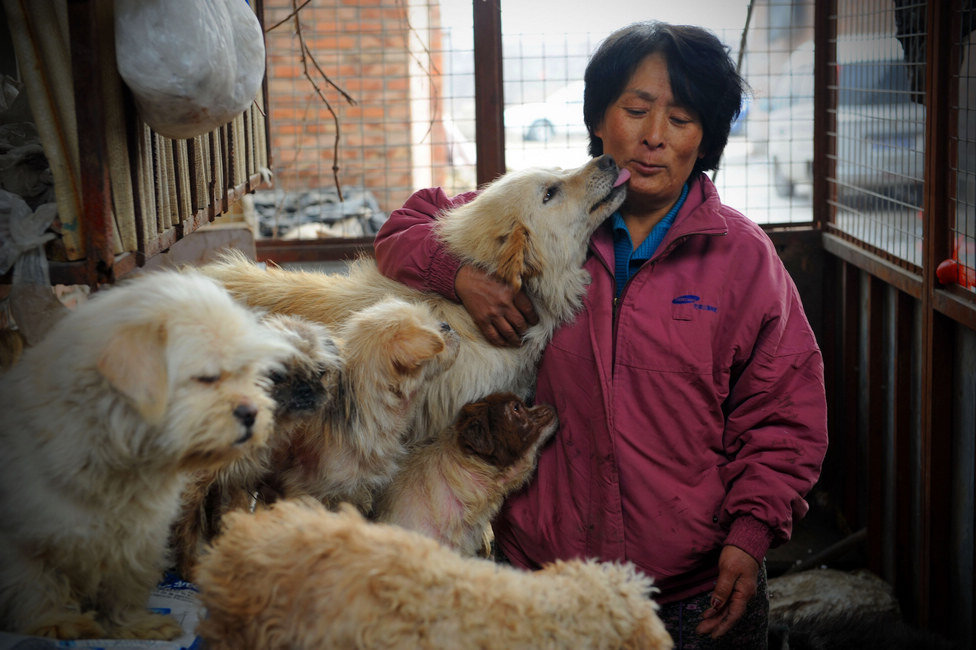 Love, affection and trust from all her animals are what put a smile on Ms Yang's face everyday.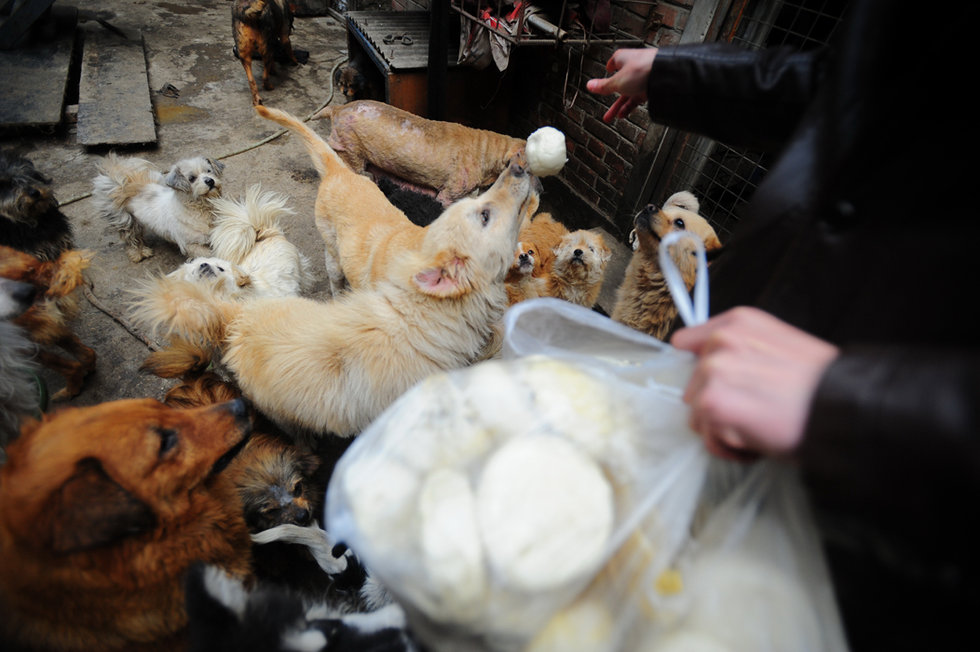 Volunteers feeding steamed buns to the dogs, It's always a special treat for all of the animals when volunteers come and visit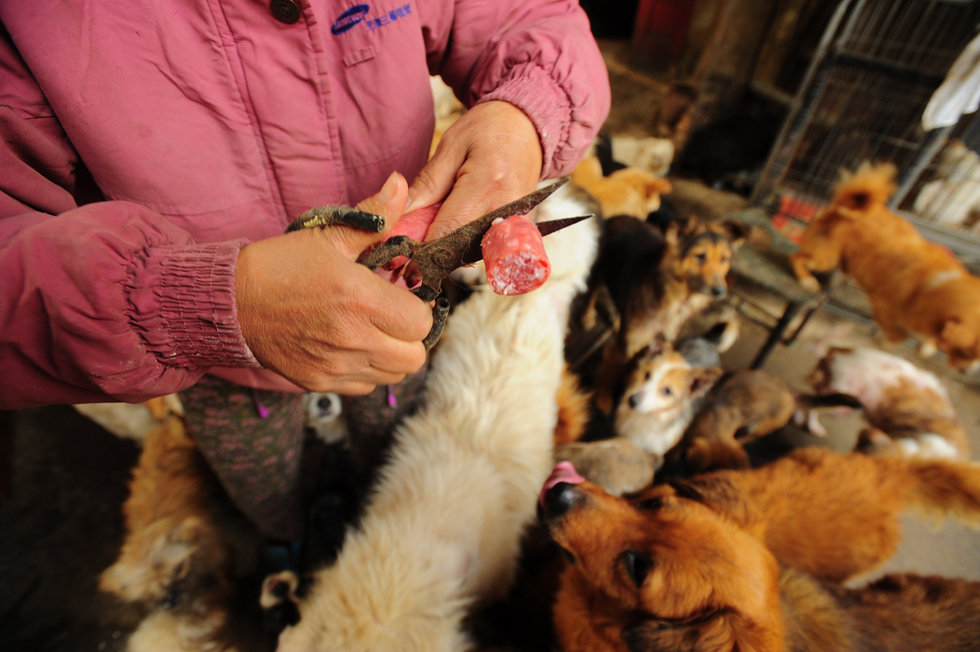 Special treat time — hotdogs!!
Ms Yang tries to treat the animals with something special on the weekends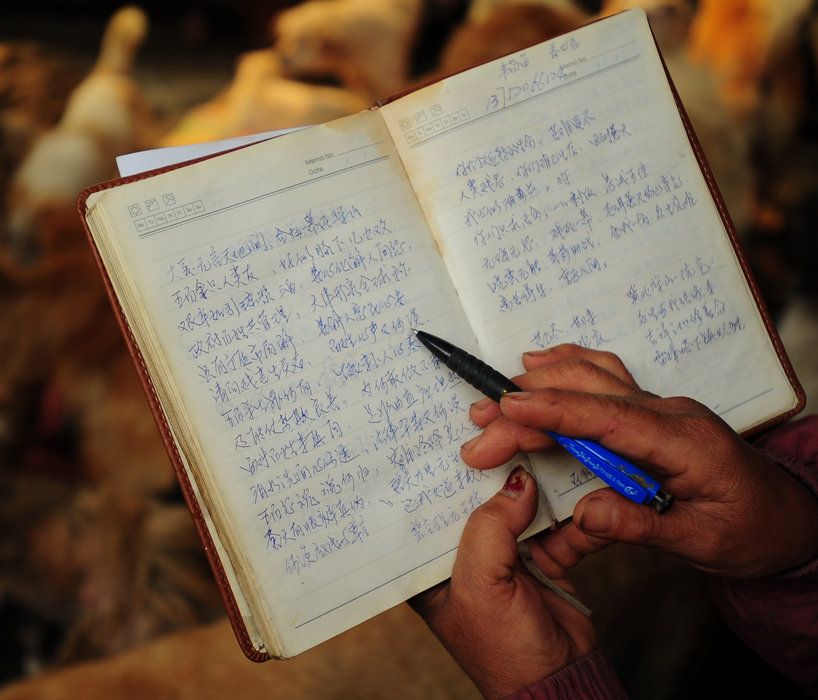 Ms Yang keeps the contact information of the volunteers in her notebook. She also likes to write poems.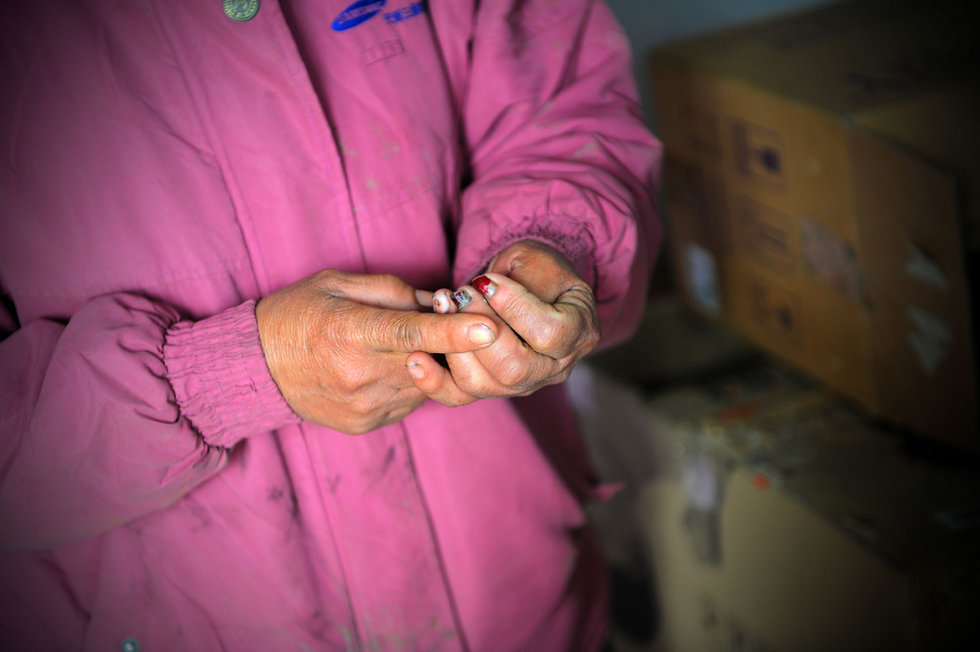 More than 1200 homeless and abused animals are under gentle care of these hands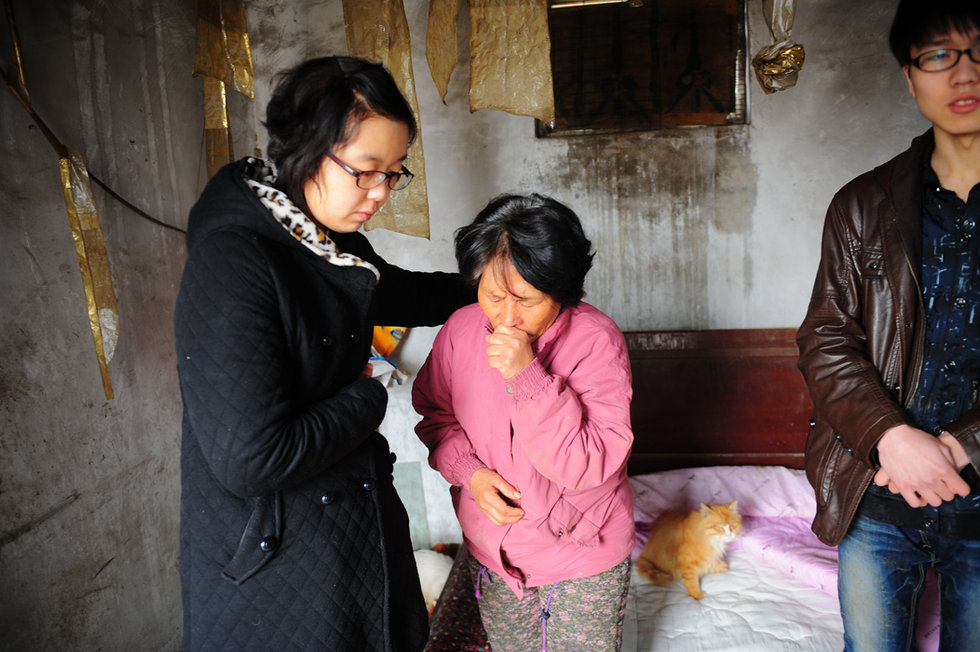 Ms Yang's health is not in a great shape and she coughs a lot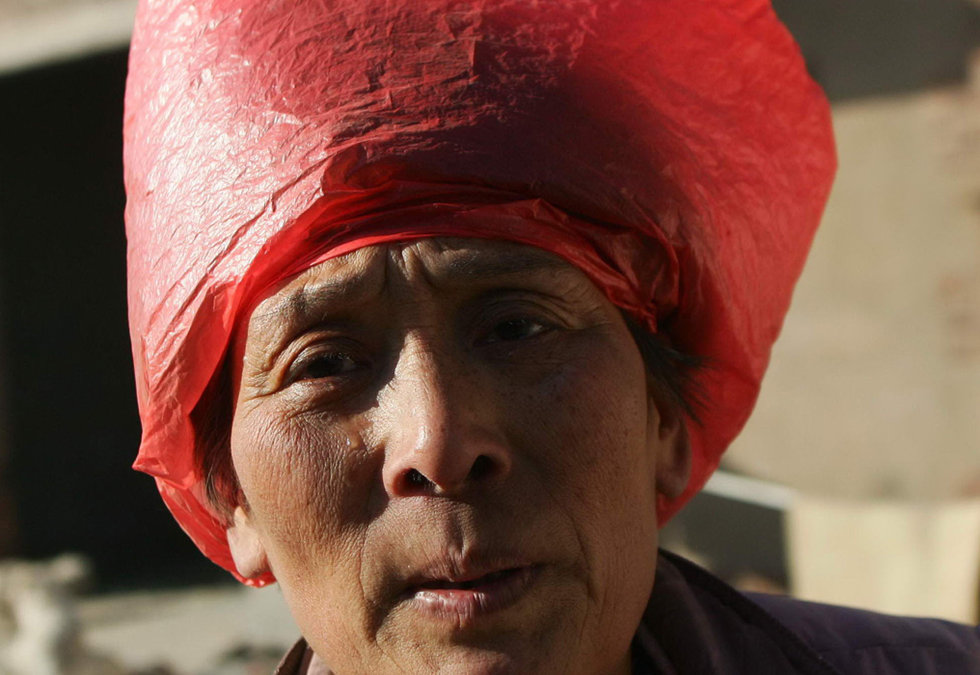 It is not easy to rescue stray animals in China, and it sometimes makes her feel very helpless.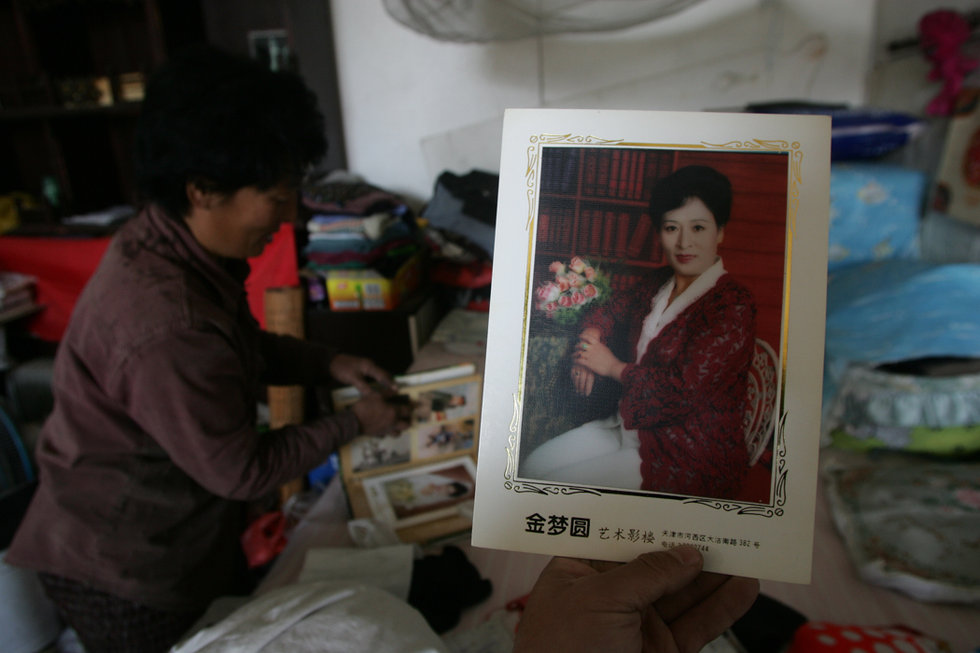 Ms Xiaoyun Yang, a portrait that she took back in 90′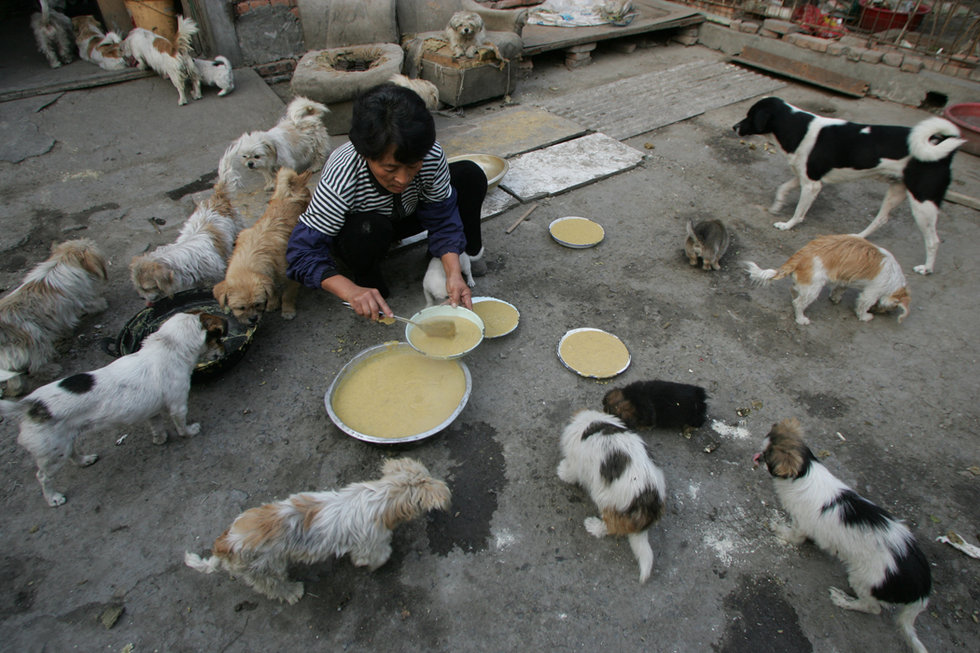 Dinner time
The animals don't get to go out of the shelter very much.  The outside world is not safe for them
Dogs enjoying a lazy afternoon in their cozy spot. This may not be the nicest and cleanest shelter in the world, but it is a safe oasis in a dangerous world where all of the animals are loved and cared for
Ms Xiaoyun Yang, and two very young high school students who are regular volunteers in the Common Home